The most advanced touch screen in the world
Due to its versatility and features DL®Dixpley is the most advanced interactive touchscreen in the world, at least for us, because it incorporates all the features of a compact device ready for use as an interactive table for presentations, live or simply as a hobby with its many recreational options. Due to its nature of being a device created for our clients and assembled mainly by a traditional process, it gives endless configurations which are adaptable to user needs.
Dixpley. All in one
The new Dixpley is the tool that we consider perfect for presentations, interaction and live games, and can also be used stand alone or in groups. Our hand-crafted process allows you to specify all of the internal elements, such as sound and video cards and other customized components. This tool incorporates everything you need into one device. Dixpley can incorporate Inputs, outputs, data connectors and control of peripherals and any necessary parts to connect it to the outside world. Furthermore Dixpley incorporates its own computer so that you can choose from any of the most popular operating systems; Linux, Apple and Windows.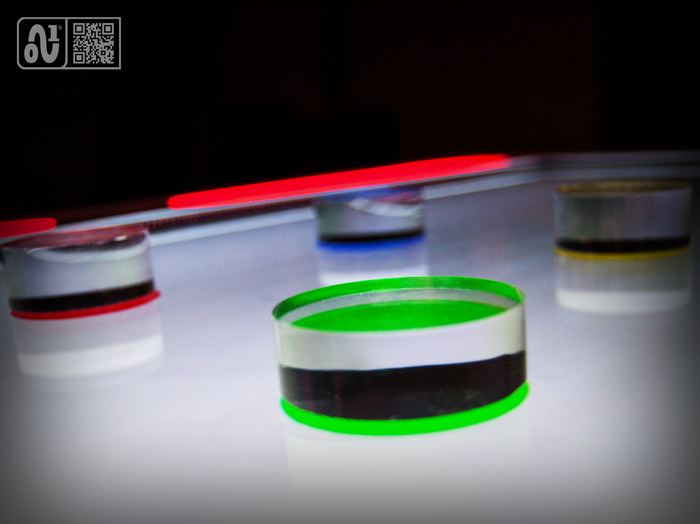 Fingers and tactile objects
The advanced settings of the Dixpley touch screen provides the ability to interact with a total of 32 fingers and / or concurrent pucks, this being sufficient to manage all functions of the software. Because it is multi-touch, it can detect the simultaneous positioning of all fingers, and is able to adjust their size in the preferences panel, which is easily accessible from the Digital Luthier software control.
Comfortable position
The operating position of the Dixpley has been ergonomically designed and tested to ensure a correct and comfortable position when it is in live performance mode, or to simply adjust the height of the device when it is being used in table mode or presentation. The stand allows adjustment of the inclination of the Dixpley, making it easier to achieve a truly comfortable using of the device, especially for several hours in the same work position.
Connect what you want
The Dixpley system allows custom configuration of all kinds of connections with external peripherals and can provide audio connections, video or data depending on the purpose for which it is to be assigned equipment. All connectors are professional industry standard, enabling a quick and easy installation in any environment in which standard cables are used. However we can install any specific type of connector to control any dedicated hardware.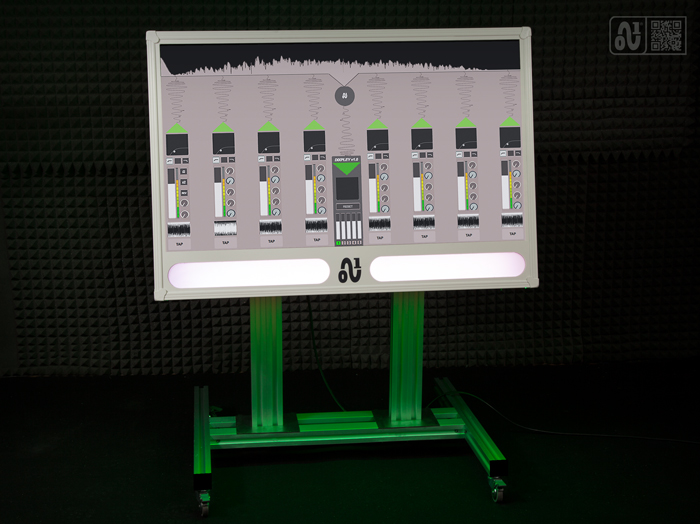 Audio-visual performance
When the Dixpley is used in live mode it is an attractive spectacle because whilst the music and video is controlling the device, it produces various visual shapes with its panels, with their powerful LED RGB capable of printing a total of thirty-three thousand colors. These panels, distributed to the sides of the 4 walls of Dixpley, are visually accessible to the public who stand watching the show, so the Dixpley tool also becomes a powerful visual system sequenced in time to the performance.
All Operation Systems
The computer system built into the default Dixpley is configurable and supports today's most popular operating systems; Apple®, Windows®, Linux®, simulation Apple® iOS and Android®. They can use their own plugins or the specific range that is offered by Digital Luthier. There is also another range of computer systems for more specific activities that do not require the known operating systems and are sufficient to perform the required tasks.
All DAWs
The computer system installed within the Dixpley screen to access control over all DAWs (Digital Audio Workstation) Ableton®Live, ProTools®, Cubase®, Logic®, Sonar®, etc, incorporates MIDI and OSC protocol control, which is current industry standard. Any software tools that run on Mac, Windows or Linux operating systems can be installed in the Dixpley as well as applications of the most popular platforms iOS and Android. In addition it is also possible to run software primarily intended to control video. The team specializes in software programmers who will create the necessary tool to be used.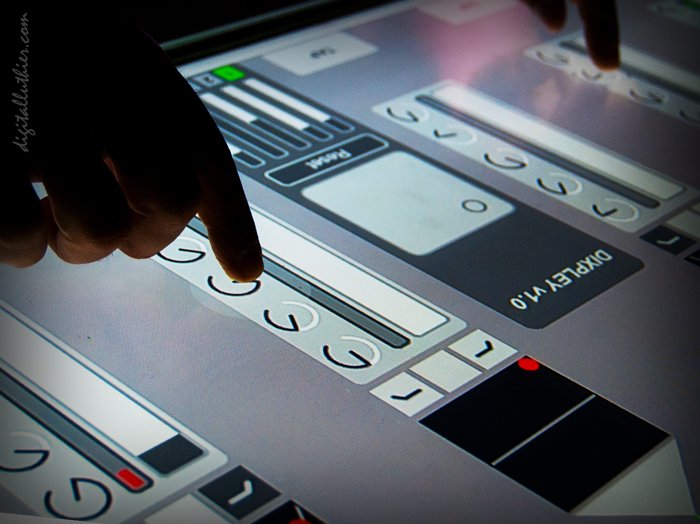 Crafted software
One of the important possibilities Dixpley system is that the software division of Digital Luthier can program the control software on user request, so that ultimately you can create the perfect piece for each artist or professional. The ability to do both, hardware and software for creating unique custom parts for specific purposes, being able to come up with this new tool where none could be reached with the known devices. Artists, professionals, conferences, presentations, clubs, recreation centers ... all an endless users can now have the perfect and according to your needs tool.
Colaborative software
The 32 simultaneous touch points from the Dixpley screen and its rectangular shape offers the possibility to use the system simultaneously by multiple people interacting with their fingers and either on video games or directly on custom software created for a particular purpose. When we make software for collaborative presentations, for example, it is possible to integrate customer logos on the product and creating a perfect tool for marketing and collaboration between users.
Motion detection
The possibility of installing a camera biomechanics to work interactively with software lets you control all functions of this without the need to touch the Dixpley. There are several applications that can work with this innovative system as programming for games, presentations, interactuactuación and mainly live performances mode. The system also includes an integrated manner all kinds of sensors allowing additional control functions with simple detection Dixpley our presence. Thus we have special functions such as handling certain applications with just reach out and away from the screen.